The MAC west may be top to bottom a better division (a fact of which us east fans were reminded every single week when ESPN bothered to have a mid major blog) but the MAC east is holding the hardware. Last week I briefly ran through the east teams now its time for the west. who is going to try and take back the Conference Championship?
Ball State:
Denial ain't just a river in Egypt -- Mark Twain...


I have seen some bold predictions from Ball State fans (10+ wins, conference title, ranked) but if you take off your Cardinal tinted glasses you'll see, to the left, the last view you'll ever get of 2008's main architects.
While Ball state 'the program' can recover from the early exit of Davis and the untimely exit of Hoke it will not happen this year. Ball state will be a balanced, competitive MAC team, will likely be bowl eligible, and might surprise either CMU or WMU during the regular season.
2009 is a catch a breath moment for the football program and I hope the fan's will come out with the same enthusiasm they showed in 2008. It would be a shame to see any die off in fan enthusiasm before Stan Parrish has had a chance to replace some key personnel and get his young team some much needed experience. From what I have heard over on
BSUFans
they are really high on Kelly Page but even if he is the real deal it will take at least a season for him to live up to his potential.
2009 schedule
: (7-5, 5-3)
Sept. 3 North Texas

Sept. 12 New Hampshire
Sept. 19 @ Army
Sept. 26 @ Auburn
Oct. 3 Toledo
Oct. 10 @ Temple
Oct. 17 Bowling Green
Oct. 24 @ Eastern Michigan
Oct. 31 Ohio
Nov. 12 @ Northern Illinois
Nov. 18 Central Michigan
Nov. 24 @ Western Michigan
CMU:
Whil that iren is hoot, men sholden smyte. -- Chaucer
Be careful not to take too much cheer in where the Cardinals find themselves, you very well could be there this time next year Chips. The downside of being set at quarterback for so long is that you can easily be taken for a loop when the star moves on.
No point in talking any more about LeFevour everything that can be said that has been said. Ball State threw a wrench in their plans for a three straight conference crowns but dropping one to EMU at the end of the season made the loss to BSU seem somewhat less bitter.
Expect the Chips once again regain their position as the best team in the MAC though they will be sorely tested and pressured by Western Michigan and maybe NIU depending on how they put their defense back together.
2009 schedule
: (9-3, 8-0)
Sep-5 @ Arizona

Sep-12 @ Michigan State

Sep-19 Alcorn State

Sep-26 Akron
Oct-3 @ Buffalo
Oct-10 Eastern Michigan
Oct-17 @ Western Michigan
Oct-24 @ Bowling Green
Oct-31 @ Boston College
Nov-11 Toledo
Nov-18 @ Ball State
Nov-27 Northern Illinois
EMU:
"
the Dude abides
"
--
Jeffrey Lebowski
Well for 13 years EMU has been a losing team, yet thanks largely to a private booster buying up thousands upon thousands of tickets they are still here.
The Eagles may be the MAC conferences nearly guaranteed win ( well, except the chips ) but as a program financially they do OK (due in no small part to the afore mentioned benefactor). Clearly the fans deserve a change, and change is coming... but it may take a couple of seasons to undo more than a dozen years of misery.
I like Ron English he has the potential make some headway this year but a three or four win season would be a small miracle. I do think the eagles defense will be marginally better but before this team stops losing English is going to have to imbue it with a culture of winning. Making the fans, the community, and the team believe that they can win is going to be difficult.
The Eagles will probably steal a game (Army, Toledo, Kent all seem like games they can compete in) And who knows they might have another CMU game in them but heads up they are not better than anyone on their schedule. I almost hate to say this but EMU needs to bring in a FCS Cream puff once a year, their fans really deserve to have a home win and if they don't get it done in week one this year they wont get it done in Ypsilanti until at least 2010.
2009 schedule
: (0-12, 0-8)
Sept. 5 Army
Sept. 12 @ Northwestern
Sept. 19 @ Michigan
Oct. 3 Temple
Oct. 10 @ Central Michigan
Oct. 17 Kent State
Oct. 24 Ball State
Oct. 31 @ Arkansas
Nov. 5 @ Northern Illinois
Nov. 14 Western Michigan
Nov. 20 @ Toledo
Nov. 27 Akron
======
Update:


I based my praise of EMU fans off of NCAA numbers, my newbie lesson for the day is that NCAA attendance numbers are worthless... I should have known better thanks to the folks at bronco stampede for setting me straight...
Does this look like 18K people? I have changed the EMU section to reflect this reality


Northern Illinois:
"I see the bad moon arising."
-- Creedence Clearwater Revival
One of the reasons that I am so high on the Huskies is because you can watch a stout defense smother an opponent and play a conservative offensive set, there is some smash mouth football in the MAC. Temple is working the same angle and making some good progress but NIU has gotten there first.
Jerry Kill performed an Amazing turn around last year four more wins, a bowl game, and a top twenty defense. Clearly the Huskies are now a team to watch out for in the MAC. The challenge this year will be replacing so many lost starters.
The defense is clearly going to fall off this year, a team in the MAC can not lose someone like English and replace his on the field production. Losing 6 other starters does not help the cause but they wont be as bad as the Huskies defense was in 2007 and may still manage to be in the upper tier of MAC defenses. This season is Jerry Kills proving point, was last years defense a fluke built on his predecessors recruiting or could NIU, and maybe Temple start to move the MAC in a new direction.
The fall off on Defense should be offset by a slightly improved offense, specifically a more mature Chandler Harnish. They will compete well with, but not be able to overtake, Central or Western Michigan. Another Bowl appearance is possible if enough at large spots open but they will have to beat Ball State in mid November or they will be, at best, fifth in line for a bowl.
2009 schedule
: (8-4, 6-2)
Sept. 5 @ Wisconsin

Sept. 12 Western Illinois
Sept. 19 @ Purdue
Sept. 26 Idaho
Oct. 3 Western Michigan
Oct. 17 @ Toledo
Oct. 24 @ Miami University
Oct. 31 Akron
Nov. 5 Eastern Michigan
Nov. 12 Ball State
Nov. 21 @ Ohio
Nov. 27 @ Central Michigan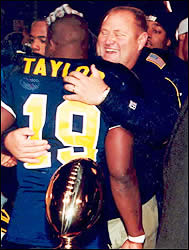 Toledo:
"Houston, We have a problem"
-- Captain Jim Lovell (too easy?)
No the quote is not a shot at Toledo's on the field performance which I expect to improve over last year. The problem will be adjusting to a world without Toledo Tom who had been coaching the Rockets as a head or assistant for more than a thirty years!
His resume as a head coach includes Two Bowl Wins (in Four Bowl Appearances) , Two double digit win seasons, Two conference Titles, Four Division Titles, and one Top 25 ranking. Tom Amstutz built a great program at Toledo before the wheels started coming off in 2006. Though he is still a part of the program he will be missed on the sidelines.
In his own words:
"I enjoyed every aspect of being a head coach. I will remember sharing great victories with the players, singing the UT fight song and passing around championship trophies with them. But I also remember encouraging them after tough losses, telling them I still believed in them and was still proud of them."
Tim Beckman takes over a team who's coach was synonymous with the program I don't envy him that task. He does, however, get 18 starters returning from the last incarnation of the Amstutz Rockets so there is allot of in game experience at his disposal for the 2009 campaign. These are the starters that took Fresno to the wire, beat Michigan, and fought hard against CMU, there is allot of potential for the Rockets. The team should improve if they believe in Beckman. It may not translate into more win's this year but they will be far more competitive and consistent in every game.
2009 schedule
: (4-8, 2-6)
Sept. 5 @ Purdue

Sept. 12 Colorado
Sept. 19 Ohio State (in Cleveland)
Sept. 26 @ Florida International
Oct. 3 @ Ball State
Oct. 10 Western Michigan
Oct. 17 Northern Illinois
Oct. 24 Temple

Oct. 31 @ Miami University
*
Nov. 11 @ Central Michigan
Nov. 20 Eastern Michigan
Nov. 27 @ Bowling Green
* I know I also picked Miami to win this game: It's just too close to call, the more I look at Toledo the more I like them and I don't see the harm in calling it a draw at this point as Miami and Toledo are (1) in different divisions and (2) not going to compete for their respective division crowns.
Western Michigan:
"Keep your face always toward the sunshine - and shadows will fall behind you."
-- Walt Whitman
One could easily be tricked into believing that Central Michigan's full name ended with 'And Western Michigan'. The two find themselves constantly mentioned together usually with the Bronco's sitting second chair. Its unfortunate because WMU has a solid team and a solid program if WMU knocks off the favored Chips for the division it would be only a slight surprise.
Like the team as a whole Tim Hiller often gets overlooked. Last year clearly Hiller was the second best Quarterback in the conference (albeit LeFevours injury played no small part in that) yet he was beaten out by the three year Central Michigan starter for the second team All-MAC honors... Really?
On offense WMU brings back Hiller, most of his line, and Brandon West but lose wide outs Simmons and Julian. The losses are pretty deep on defense so Hiller and the offensive unit is going to be under more pressure than last year but expect them to handle it well. The team will be solid and finish first or second in the conference. October 17th all eyes should be on the Central Michigan game and, if they win it, the next week versus Buffalo could easily be a trap.
2009 Schedule:
(10-2, 7-1)
5-Sep @ Michigan
12-Sep @ Indiana
19-Sep Miami (OH)
26-Sep Hofstra
3-Oct @ Northern Illinois
10-Oct @ Toledo
17-Oct Central Michigan
24-Oct Buffalo
31-Oct @ Kent State
7-Nov @ Michigan State
14-Nov @ Eastern Michigan
24-Nov Ball State